You see, even a hair-cut is big news. I suppose for Jennifer Aniston it will as her do as Rachel Green was really a hit.
The $42M home is actually very vast, I would say. And it looks like, privacy is also prevalent.
And yeah, Jen has been sporting all black lately. As usual, very classic and stylish. It never goes out of style. I also like the ruffled dress she wore in Berlin to promote her movie, Just Go with It. Speaking of the movie, it seems really good and one can lie down and have some
Dutch Master
while watching. The review wasn't great but the viewers gave high remarks. That's what counts.
Jennifer Aniston's house is for sale. The actress tells People Magazine that she wants to simplify her life and the house is "just too much for her." It might be TOO much for a lot of people. People reports the house is on the market for $42 million. Photo: Aerial GV's of Jennifer Aniston's home in Beverly Hills. (SplashNews)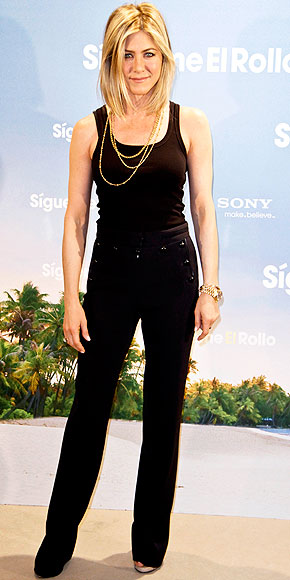 JENNIFER ANISTON
Who needs a gown? An all-black ensemble, like Aniston's slim tank and high-waisted sailor trousers, transitions seamlessly from day to night – and puts the spotlight on her sexy new 'do.
*****