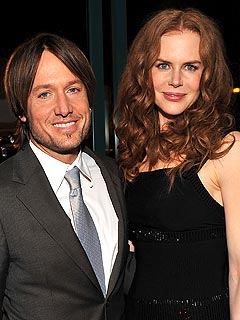 It's a girl – and a huge surprise!

Nicole Kidman and Keith Urban revealed Monday that they are the parents of a baby girl.

Faith Margaret Kidman Urban arrived Dec. 28 at The Women's Hospital at Centennial in Nashville. Faith was born through a gestational carrier and is the biological daughter of Kidman and Urban.

"Our family is truly blessed, and just so thankful, to have been given the gift of baby Faith Margaret," the family says in a statement. "No words can adequately convey the incredible gratitude that we feel for everyone who was so supportive throughout this process, in particular our gestational carrier."

Kidman and Urban, both 43, had kept the birth a secret, saying nothing about being new parents when they attended the Golden Globe Awards on Sunday night.


I was really surprised by this news. Good on them for keeping it low the entire time. But I suppose, they will do everything for the safety and the sake of their child. Now they have 2 girls. How good.
I'm sure people wonder why they opt for a surrogate parent but I suppose they have their reasons.
Okay, now onto
www.stepstoolsupply.com
while waiting for my father and son to turn up from a friend's house.
*****